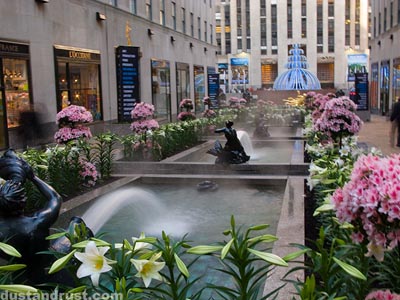 Channel Garden Fountains, Rockefeller Center
The small Cherry Blossom trees are in bloom, and there was a mist rising from the fountain. In the background, you can see Prometheus, and the "Electric Fountain".
I'm really enjoying the Canon G9. I find myself shooting (and posting) more often. This shot was taken hand-held, using the G9's built in ND filter to get the cliché cloudy water effect. The picture has some motion blur, but it's not too bad considering it was a 1 second exposure. The image stabilization on the camera is good, but it can't work miracles. I am thinking about getting an Optech Strap for the camera. I have the Pro version on my D200, and I like it alot. You can remove the middle part of the strap, and connect the 2 end loops attached to the camera, creating a decent hand strap. I'm hoping i can get the hand held shots a little sharper by pulling the camera out against the strap.