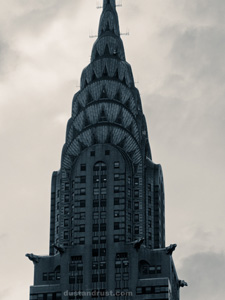 Chrysler Building and Clouds
The Chrysler Building is one of my favorite NYC landmarks. I took this shot on my way to work this morning. I really liked the dark mood created by the back light and gray clouds.
I was lucky enough to attend author Neal Bascomb's presentation in the old Cloud Club in 2002. If you have any interest in skyscrapers, I highly recommend you check out Mr. Bascomb's book : Higher: A Historic Race to the Sky and the Making of a City.